We've all had one of those days – feeling uninspired, struggling to find something interesting to say about the same old thing and too busy to bring that dry and complex info to life.
Then, to cap it all, a helpful colleague tells you they haven't seen your comms anywhere, despite you blitzing every channel you possess.
I know it's happened to me and I congratulate everyone who keeps their cool in the face of it. Yet we know getting your share of colleagues' valuable time and attention is a challenge and one which is only increasing as they are flooded with more and more information from all directions.
This is why I was pleased to be at this week's lively LGcomms webinar 'Creative, engaging internal comms – lessons from a social media expert' hosted by Helen Reynolds.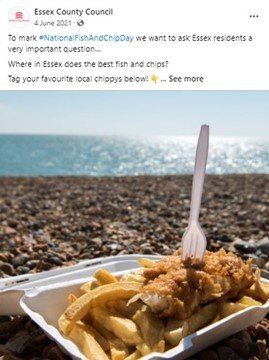 Helen runs a social media training business and promises to help you in 'unboring your comms'. The thrust of her webinar was looking at how regular social media channels such as Facebook or Twitter draw in their audiences and how, as internal comms professionals, we can adapt their approach to engage our own employees, thus helping to raise awareness of the content we want them to see. And, as an added bonus, it was nice to see an example of best practice from my own Essex County Council's Facebook channel for National Fish and Chip Day, asking our residents the million-dollar question of where they think the best chippie in the county is.
In the social media world if a topic doesn't engage it will die. Thankfully it's not quite so brutal in internal comms but the principles are the same. A worldwide poll by Ipsos found 61% of people primarily share interesting things while 43% share important or funny things. And their favourite subject? No, it's not the weather – but themselves!
It's impossible in this blog to cover all Helen's thought-provoking content but I guarantee everyone who attended left revved up and inspired to be funnier, more creative throughout the year (it's not just for Christmas you know) and ready to seek out new ways to help our people connect with each other.
All attendees will have made their own personal list but here are my top five takeaways or things to add to my to do list:
Stop serving a five-course meal when your audience just wants a snack
Look at the mix of content we provide – is it too heavy? (I think I already know the answer to this one!)
Schedule some ideas meetings with no actions or agendas
Remind myself I am not a public information service
Give my audiences something topical to engage with so I can hook them into reading what I need to communicate.
I've got my fingers crossed these new ideas will play dividends for our audiences, but I hope to feel the benefit personally too. As Albert Einstein famously said: 'Creativity is intelligence having fun'.
Sharon Asplin, Senior Internal Communications Adviser, Essex County Council and LGC member